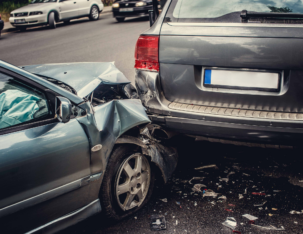 What information should I get after a car accident?
The first step after any car accident, even a minor one, is to talk to the other drivers of vehicles involved in the collision. Get their names and contact information, as well as driver's license and insurance information. Write down everything from the driver's licenses, including the state of issue and ID number. If the driver of the car is not the owner, be sure to get the owner's contact information as well.
If a police officer responds to the crash or takes down a report, get the officer's contact information, as well as the incident or report number. Take your own notes about the car crash and the location. Take photos of the scene and all vehicles involved in the accident.  Notes and photos of the scene will help you recall details later. Write down information about all vehicles involved, including license plate number, year, make, model, and color, as well as any visible damage related to the accident.
As the driver of a car involved in an automobile accident, it is also important to begin gathering information from witnesses. This can include the names of passengers in other vehicles involved in the auto accident, as well as other drivers or pedestrians. Get their contact information, as well as a statement of what they saw, so that you, your insurance agency, or your Houston car accident attorney can contact them for further information. Do not threaten or beg witnesses for information because forcing the information will get you nowhere.
What can I do to preserve evidence after an automobile accident?
After an automobile wreck, the last thing on your mind is recording the details of the accident. However, it is imperative that you take such measures to preserve evidence at the scene of the car accident. Notes and photos are crucial if you want to receive compensation for your damages from the at-fault driver.
To preserve evidence after a car accident, the first step is to take photographs of the accident scene, damages to vehicles, and personal injuries. Take photos of road conditions, signage, skid marks, and anything else you think may help an expert recreate the accident.  Take written notes of anything that cannot be captured in a photograph to aid you in describing the accident months after it happened, and obtain a copy of the police report.
Additionally, visit your doctor and maintain a log of your injuries and healing process, including photographs. Preserve all physical evidence such as torn clothing or vehicle damage. Do not repair your car until you are sure enough photographs have been taken of the damage.  Make sure the body shop takes photos of any frame damage underneath the bumper.
It is important to contact an attorney as soon as possible after your car accident so they can advise you of everything you need to document in order to establish a strong case.
Should I call the police after an auto accident?
Yes, always call the police after a car accident! This is absolutely critical in an accident involving injuries or major damage. Even in a "fender bender" involving no major injuries or damage to vehicles, resist the temptation to settle with the other driver on the spot. Always consult with your doctor and an experienced Houston vehicle accident attorney before settling with an at-fault driver following a car accident.
The police will create a report about the crash. Always get the name and number of the responding officer so that you can obtain a copy of the accident report. They will take statements from witnesses and examine the driver for drug or alcohol use, which can be an important factor in your car accident injury claim.
After calling the police for a minor wreck, do not be surprised if you have to wait an hour or more for an officer to respond, as it is considered a low-priority call. Wait for them. The information they collect about the accident can be crucial to your claim against the other driver.
Who should I contact after a car accident?
After a car wreck resulting in injury, your first step is to call 911 for emergency assistance. Once any injuries have been treated on the scene, a police officer will take down an injury report, and you should exchange information with other drivers involved. Then, you are free to leave the scene of an accident.
You have the right to seek what you deem to be an appropriate level of medical care following a car crash, even if you were not treated at the scene. Following the auto accident, you will also need to contact your mechanic to have your car repaired, and you have the right to choose your own auto repair facility.
Call your car insurance agent promptly to report the accident. This step is required even if the car accident was minor and did not cause any damage to your vehicle. Filing an accident report with your insurance company will also begin the process of reimbursement for expenses related to medical care and vehicle repair.
If you have been injured, or your vehicle has been damaged, contact a Houston automobile accident lawyer to pursue a settlement. Hiring a lawyer is not required after a car accident, but seeking legal counsel is a good idea.  This is especially true if the automobile wreck involved injuries or significant damage to any of the vehicles involved.
Should I talk to the other driver's insurance company? What if they call me?
Never give a statement about the auto accident to the insurance company representing the other driver. If you are contacted by the insurance company, you are within your rights to refuse to speak with them. Be polite, but do not provide any information about the accident. Insurance claims adjusters are professional negotiators and will use any information you provide to hurt your claim against their insurance company.
They may also present a settlement offer before you have had a chance to consult with an experienced Houston car accident attorney. If you accept this settlement, you will not be able to pursue additional money for your injuries. Do not sign any paperwork, including a settlement or a release of medical records, before you are aware of your rights under the law.
Always seek the advice of a personal injury attorney in Texas before speaking with the other driver's insurance agency.
What makes a successful accident claim?
In Texas, a successful car crash claim depends on proving two factors in your case: liability and damages. All accidents are unique, and therefore it is difficult to determine whether your claim will be successful without knowing all of the facts.
Your claim depends on whether you or someone else was at fault. Successful claims are brought by victims who sustained injuries through no fault of their own and through the negligent or reckless driving of another person. The victim's physical injuries or damage to property must be proven to originate from the accident.
When you seek our advice, the vehicle accident attorneys at Wyly & Cook, PLLC in Houston, Texas, will let you know whether we think you have a claim worth pursuing.  Consultations are free.
Who is responsible for a car crash involving my vehicle and a city street pothole?
In Texas, the maintenance of city streets is typically the responsibility of the municipal government. City governments are expected to adequately inspect and maintain streets. Claims for compensation related to a pothole accident are typically made against the city.
For cases against the local government, it must be proven that the government knew, or should have known, about the pothole, and had adequate time to fix it before the accident. If the city can prove that they had no knowledge of the pothole, or did not have a reasonable amount of time to correct the problem, your claim will be unsuccessful.
Making a claim against the city is one of the most complicated types of car accident claims. Consulting with an experienced Houston automobile accident attorney provides you the best chance of success. If you or a loved one has been injured due to an accident involving a city street pothole in Texas, speak with the accident lawyers at our firm immediately.
Should I take the settlement my insurance company is offering me?
After an auto wreck, victims are often surprised at how quickly the insurance company offers a settlement. Before accepting this offer, be aware that this is often a tactic to get you to settle for less than your claim is worth. If you accept the settlement, you will not be able to pursue additional compensation later. Be aware that you are under no obligation to accept a settlement offer, especially if you feel that it is not enough to compensate you for your injuries and damages.
Always consult with an experienced car crash lawyer before accepting any settlement offer. Your personal injury lawyer at Wyly & Cook, PLLC can help you determine a reasonable amount based on the facts of your case. Because each case is complex, it takes a skilled auto accident lawyer to determine whether a settlement offer is fair.
Your attorney can also continue the negotiations for you, often reaching a settlement offer many times higher than you would be able to achieve alone.
What if I cannot afford to pay my medical bills?
Although the at-fault driver in a car crash is responsible for the medical bills relating to the accident, reaching a settlement can take some time. Meanwhile, your medical bills keep going up.
In the interim, your insurance company may provide some level of medical expenses following an accident, regardless of who is at fault. Texas law requires every registered car to carry at least $30,000 in liability insurance for accidents injuring one person, and a minimum of $60,000 for accidents injuring multiple people. Such coverage will pay for your medical bills in the event that you are involved in a car accident. Your health insurance may also cover these medical expenses.
Our attorneys can help arrange for your medical treatment under a letter of protection.  Under a letter of protection, your medical provider will treat you and agree not to be paid until your case is resolved.  This allows you to receive treatment without paying out of pocket or using your health insurance benefits.  Many of our clients choose to treat under letters of protection while we build a strong case on their behalf. 
If you have been injured in a car wreck and need the settlement money to pay for medical bills, consult with the Houston automobile accident attorneys at our firm. Hiring a car accident lawyer can mean a faster resolution to your claim, so you can get your money sooner.  Please contact our Houston car accident attorneys to discuss your medical treatment needs.
When will my personal injury claim be resolved?
Some personal injury claims can be resolved in a matter of a few weeks. On the other hand, it may take months or even years to come to an agreement over the settlement amount or bring the case to trial. Some complex claims may take several years to be resolved.
The timeline of a personal injury claim in Houston depends a great deal on whether you accept a settlement offer before your case goes to trial. Reaching a fast settlement results in a quicker payout, but may also result in a lower amount than with lengthy negotiations or a trial. Cases involving serious personal injuries typically take longer to resolve because the full extent of the injuries may not be immediately known.
No claim should be settled until the damages are known.
I did not feel pain at the scene of the car crash and refused medical treatment. Now, a few days later I am in pain. What should I do?
In many cases, victims of a car accident do not feel pain until several days after the collision. As soon as you feel pain, consult your medical provider, no matter how minor you believe the injuries to be. Whenever you have symptoms that may be related to this injury, see your doctor, even if it is months after the accident. Continue treatment until your doctor releases you. Records of these visits verify the nature and duration of your injuries, which can be important for proving a car accident injury claim.
Even if you did not complain of injuries or receive medical treatment at the scene of the accident, you may be entitled to compensation for your injuries.
How much can I expect from a settlement offer?
Those involved in a vehicle accident will often try to settle out of court. Because the facts of each case are unique, there is no way to determine the amount of the settlement offer before it is made. The dollar figure varies in each case depending on the injuries and other variables. Often, the settlement offer is based on what the other side thinks the outcome would be if the case went to trial.
A fair settlement offer includes the costs for medical treatment and to repair damaged property, and may include costs for pain and suffering, mental anguish, impairment, disfigurement, time out of work due to injuries, and other variables. There is no set formula to determine what you can recover through a settlement offer. By working with an experienced automobile wreck lawyer, you can increase your chances of a fair settlement offer.
Do I need a lawyer for a car accident?
Although you are never required to hire a lawyer for a car accident, often it makes good sense to do so, whether you are the injured party or the at-fault driver. The need for an attorney in an auto accident case depends on the circumstances of the accident. If the accident involves serious injury or death, contact a Harris County car accident attorney.
A Houston auto accident attorney is also recommended for cases in which fault or liability is contested, or where there are insurance problems such as a low policy limit or a driver with no insurance.
A Houston car accident lawyer can also be helpful for settling a claim, handling negotiations with an insurer, and reviewing any paperwork you receive from the insurance company. Contact us today to discuss your situation and legal options.
Who can be held legally responsible for injuries resulting from an automobile accident?
If you are injured as the result of an auto accident, the person most commonly held legally responsible is the driver who caused the accident. Other than the at-fault driver and their insurance company, there are other potential defendants who may be held responsible for your injuries. In order to ensure maximum legal recovery, it is important for you and your Houston automobile accident attorney to identify as many potential defendants as possible.
In a crash involving a commercial vehicle, the trucking company or employer, as well as their insurance companies, may be obligated to compensate you for your injuries. Establishing the liability of a third-party can be problematic, however, and it is advised that you consult with an experienced Houston auto wreck attorney in Texas before proceeding with your claim.
What types of compensation am I eligible for if I am injured in an automobile accident?
When a claim is made against the person responsible for your auto accident, their insurance company is responsible for paying for all of the damages that were a result of the accident. When recovering damages for an automobile accident, knowing the insurance business, the complexities of the law and the rights of the victims is critical to getting the maximum compensation.
Compensation for your injuries caused by someone who was negligent could include:
All past and future medical expenses,
Cost for property damage and loss,
Past and future lost earning capacity,
Past and future pain and suffering,
Past and future impairment,
Past and future mental anguish, and
Past and future disfigurement.
I was hurt in a car crash and I think I was partially to blame for the accident? Can I still be compensated for my injuries?
In many cases, yes, you can still be awarded compensation for your injuries, even if the injuries stem from an accident for which you were partially at fault. Under the Texas legal rules of proportionate responsibility, your blame or fault in the car accident can be weighed against the responsibility of other involved parties. It is possible your compensation will be less than if you bear no fault for the accident, but you should still get a fair payment. A car accident lawyer will work to help you get the compensation you deserve.
How do the Texas laws work if I am partially at fault?
Under the rules of proportionate responsibility, also known as comparative negligence, any blame that you have for an accident is compared against the blame or fault of the other party or parties involved in causing your injuries. If it is determined that you share some responsibility for the car crash, your compensation may be reduced by the degree with which you were at fault. However, you may still be able to receive the compensation you need and deserve for medical bills and other expenses resulting from the automobile accident, such as loss of income.
Don't assume you are at fault for your car accident. Determinations of fault require thorough investigations. Our firm can review the facts and interpret the circumstances of your case to help you get the compensation you deserve.
The insurance company says it will pay for my injuries. Do I still need an attorney?
If you are seriously injured, it is worth your time to consult with an auto accident lawyer following an accident even if you believe you may be partially to blame. Insurance companies want to close cases quickly, and the adjusters are looking out for the company's bottom line – they likely will not offer you fair compensation.
The car accident attorneys at Wyly & Cook, PLLC are well versed in the personal injury laws of Texas. We know the laws and we know your rights. We can evaluate your case and help you understand your legal rights. If you choose to pursue a legal claim, we will fight for you to receive as much compensation as possible for your injuries and resulting expenses.
What if I was hit by an uninsured driver?
An "uninsured motorist" is a driver of a motor vehicle who is not carrying liability insurance coverage. It is estimated that 21 percent of all motorists on Texas roadways are uninsured. If you have uninsured motorist coverage, and you are in an auto accident with an uninsured motorist, you can collect damages from your own insurance company.
At Wyly & Cook, PLLC we have the experience and knowledge necessary to help you seek the compensation you need and deserve. Contact our firm today or fill out the contact form on this website to discuss your situation and available options to pursue a fair settlement.